Welcome to A Brave New World LRP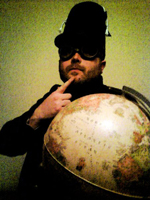 A Brave New World is a new game from the Drunken Monkey Live Roleplay Collective, set in a re-imagined Napoleonic era.
Europe is at war, the greatest war the world has ever seen. This war, fueled by the industrial drive of steam, has consumed all the great powers of Europe and their colonies.
As a member of the ever expanding British Empire and its allies, you and your companions could change the course of this war-torn continent, and possibly beyond. Play as a soldier or scientist, surgeon or bosun your character will shape the future for this brave new world.
The game is open to players over the age of 18 and is currently by invite or recommendation of existing players only. We will be running events for around 20-25 players with a strong persistent character driven story focus. You will find guidlines for character creation as well as the system rules under the rules tab. The gallery contains images from events and also illustrates the aesthetic for the game. The game will contain adult themes and strong language. Players of a nervous disposition should not attend.
The game is event based with a typical event taking place over the course of a weekend. (Friday evening to Sunday) The events are plot driven with every effort made to ensure that each event will be a new and exciting experience.
Event 6
Next Event
There are currently no events planned. Brave New World will be back though.
Latest Photos
Photos from the last event are avaliable in the gallery section. We take a good number of photos at our events, so take a look through our full galleries.

© 2009 - 2012 Drunken Monkey LiveRoleplay Collective